Tall Trees B5 Notebook

An absolutely beautifully bound B5 notebook, fabulous detail and quality. The cover is printed with Kit's Tall Trees mural design it will whisk you away to a deep enchanted forest. Enter a mythical world of tall trees an curious creatures dancing and prancing in dappled sunlight. These pages are a place for you to collect your thoughts and draw your dreams, a step towards making them come true.

This notebook features are as below:-

3 Coloured Ribbon dividers

Gold foil on the page edges and gold stamp on the back

5 printed vellum pages for you to admire as you work you way through the book.

3/4 of the book is lined paper with the back 1/4 blank

240 Pages

Size

Height 26cm, Width 18cm, Depth 2.5cm

Returns
If you are in any way unsatisfied with your order we will be happy to offer an exchange, refund or replacement on all item(s) returned to us within 30 days of the date of receipt of goods assuming they are in their original, unopened and unused condition.

Delivery costs and estimated delivery time:
UK - Excluding Channel Islands £8.00 (3-5 working days)
Channel Islands £20 (4-6 working days)
Europe and ROI £25.00 to £40.00 (4-6 working days)
USA/Canada £45.00 (4-10 working days)
ROW £55.00 (5-15 working days)

Prices
All prices quoted on this Website are accurate at the time of publication, are quoted in pounds sterling or US Dollars and where appropriate are inclusive of UK sales tax (VAT) at the current rate.
If your order is being despatched to a destination outside the European Union (EU) then your sales tax will be zero. If your order is being sent to a member state of the EU then the selling price will include VAT.

Responsibility for the payment of any customs or import duties levied once the package reaches your destination country, lies with the customer.
If you wish to order more than a quantity of 10 items please contact Firmdale on: +44 20 7907 4040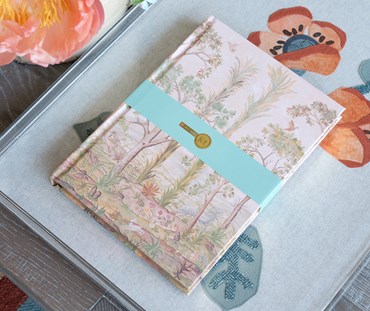 The following links display different product images on this page. Once they are displayed, they can be zoomed to see greater detail