Pride of place in the Ham Yard Hotel's drawing room is a Swedish, hand painted marriage bureau dated 1815. It is a folk art piece and truly one of a kind. We love this piece so much that we thought it would be ideal to miniaturise it and fill it to the brim with Kit Kemp treasures.

Dimensions:
W 250mm x D 150mm x H 450mm

Contents:

Mr Puff Accessory
RIKRAK Lavender Eucalyptus Shampoo, Conditioner, Hand Wash, Body Lotion (50ml)
RIKRAK Lavender Eucalyptus Pillow and Room Mist (25ml)
2 x RIKRAK Lavender Eucalyptus Candle (60g)
RIKRAK Eye Cream (15ml)
RIKRAK Lavender Eucalyptus Soap (40g)
RIKRAK Lavender Eucalyptus Hand Cream (75ml)
RIKRAK Moisturising Lip Balm (15ml)
Kit Kemp Royal Snail Notebook (L167mm x W106mm x D9mm)
Kit Kemp Pencil Box filled with blue and white pencils
Silk Pocket Square in Kit Kemp Travelling Light design (43cm x 43cm)

Returns
If you are in any way unsatisfied with your order we will be happy to offer an exchange, refund or replacement on all item(s) returned to us within 30 days of the date of receipt of goods assuming they are in their original, unopened and unused condition.

Delivery costs and estimated delivery time:
UK - Excluding Channel Islands £8.00 (3-5 working days)
Channel Islands £20 (4-6 working days)
Europe and ROI £25.00 to £40.00 (4-6 working days)
USA/Canada £45.00 (4-10 working days)
ROW £55.00 (5-15 working days)

Prices
All prices quoted on this Website are accurate at the time of publication, are quoted in pounds sterling or US Dollars and where appropriate are inclusive of UK sales tax (VAT) at the current rate.
If your order is being despatched to a destination outside the European Union (EU) then your sales tax will be zero. If your order is being sent to a member state of the EU then the selling price will include VAT.

Responsibility for the payment of any customs or import duties levied once the package reaches your destination country, lies with the customer.
If you wish to order more than a quantity of 1 items please contact Firmdale on: +44 20 7907 4040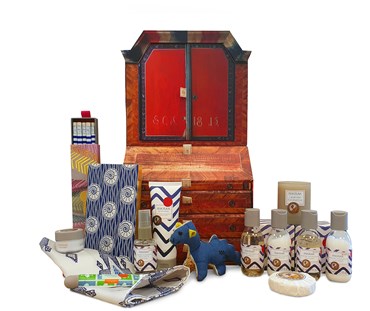 The following links display different product images on this page. Once they are displayed, they can be zoomed to see greater detail