A dining chair that is smart, comfortable and practical. The Handle Chair boasts a generously padded seat and handle which makes it easy to move and helps to protect the fabric.

In Kit's bold chequered 'Lost & Found' weave in a bespoke denim colour way with Yellow leather piping, Wenge timber legs and smart nickel nailing, this chair brings decorative flair to a room

All Kit Kemp Furniture is beautifully handcrafted and tailor made to order, therefore non-returnable unless faulty.

Dimensions

W 830mm x D500 x D 500mm x H 860mm x Seat height 480mm

W 19.7 inches x D 19.7 inches x H 32.7 inches

Please note, delivery is not included in this item cost. Please contact us on 020 7907 4040 for an accurate postage quote dependant on your area and service required before checking out.

Item only available for delivery in the UK.

Prices
All prices quoted on this Website are accurate at the time of publication, are quoted in pounds sterling or US Dollars and where appropriate are inclusive of UK sales tax (VAT) at the current rate. If your order is being despatched to a destination outside the European Union (EU) then your sales tax will be zero. If your order is being sent to a member state of the EU then the selling price will include VAT. You will be responsible for the payment of any customs or import duties levied once the package reaches your destination country.
If you wish to order more than a quantity of 5 items please contact Firmdale on: +44 20 7907 4040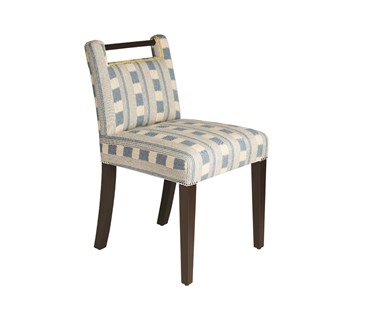 The following links display different product images on this page. Once they are displayed, they can be zoomed to see greater detail