Domino "Konya" Rug

Based on traditional Turkish carpets in an ode to Arts and Crafts, this large diamond repeat "needs to be seen to be believed"

Each made-to-order carpet is woven with a blend of rich British wool and a durable nylon mix to create designs with lasting resilience to suit any hospitality, travel or special project. Whether using traditional Axminster or Wilton weaves, or incorporating the added luxury of a Brussels weave, the Kit Kemp for Wilton Carpets Collection delivers carpet of the finest design and quality.

Size - Axminster cut pile carpet

180cm by 200cm

Content - 80% wool, 20% nylon for rich feel and durability

Designed by Kit Kemp and made in Britain

Please note, delivery is not included in this item cost. Please contact us on 020 7907 4040 for an accurate postage quote dependant on your area and service required before checking out.

Item only available for delivery in the UK.
If you wish to order more than a quantity of 1 items please contact Firmdale on: +44 20 7907 4040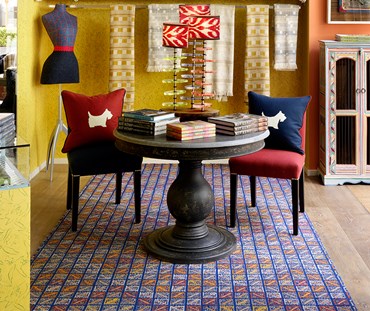 The following links display different product images on this page. Once they are displayed, they can be zoomed to see greater detail