Friendly Folk Leo Chair

A snug and useful armchair with a sink in, comfortable seat. The Polly Armchair features smart mahogany, tapered legs with brass castors

This is a statement chair that will bring vitality and comfort to any room.

Our Friendly Folk fabric is inspired by 15th and 16th century tapestries, Friendly Folk shows bushy tailed creatures peering amongst hedgerows, blooming trees and rolling English hills. With a rich sense of folklore and the lyricism of rural land.

Fabric used is Kits Friendly Folk in an outdoor fabric - your chair can be made in a choice of colours Happy Blue, Melon. Dusk and Before dawn

This fabric has a shower resistant finish which is also anti -mould, anti-mildew and anti-microbial. Each fabric has been printed using EcoFast digital pigment printing methods, which use 50% less water than traditional print methods. We do recommend, however, that this fabric is looked after carefully and best used in dry weather. As with most outdoor textiles, they should be stored inside when not in use, or during periods of wet, cold or damp weather.

Dimensions

Width 600mm, Depth 600mm, Height 900mm

Available for immediate delivery in the UK - delivery not included

Please note, delivery is not included in this item cost. Please contact us on 020 7907 4040 for an accurate postage quote dependant on your area and service required before checking out.

Item only available for delivery in the UK.

Prices
All prices quoted on this Website are accurate at the time of publication, are quoted in pounds sterling or US Dollars and where appropriate are inclusive of UK sales tax (VAT) at the current rate. If your order is being despatched to a destination outside the European Union (EU) then your sales tax will be zero. If your order is being sent to a member state of the EU then the selling price will include VAT. You will be responsible for the payment of any customs or import duties levied once the package reaches your destination country.
If you wish to order more than a quantity of 1 items please contact Firmdale on: +44 20 7907 4040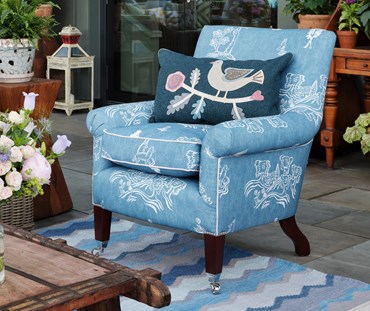 The following links display different product images on this page. Once they are displayed, they can be zoomed to see greater detail