Our Acrylic trays, are a re-imagining of the traditional tea tray, allowing us to showcase a favourite fabric by enclosing it in perspex, to bring an every day object to life with a contemporary edge . They add a burst of colour to a coffee table , and look fantastic dressed with your favourite china, a lit candle, some books or more importantly a plate of chocolate biscuits.

Our Daisy Chain tray is named after the Floral design embroidered onto this natural linen fabric, to form a central panel of indigo and duck egg blue, encased in acrylic, to add impact to your coffee table

Dimensions: 540mm x 390mm x 58mm high overall (38mm top and 20mm foot)

Returns
If you are in any way unsatisfied with your order we will be happy to offer an exchange, refund or replacement on all item(s) returned to us within 30 days of the date of receipt of goods assuming they are in their original, unopened and unused condition.

Delivery costs and estimated delivery time:
UK - Excluding Channel Islands £8.00 (3-5 working days)
Channel Islands £20 (4-6 working days)
Europe and ROI £25.00 to £40.00 (4-6 working days)
USA/Canada £45.00 (4-10 working days)
ROW £55.00 (5-15 working days)

Prices
All prices quoted on this Website are accurate at the time of publication, are quoted in pounds sterling or US Dollars and where appropriate are inclusive of UK sales tax (VAT) at the current rate.
If your order is being despatched to a destination outside the European Union (EU) then your sales tax will be zero. If your order is being sent to a member state of the EU then the selling price will include VAT.

Responsibility for the payment of any customs or import duties levied once the package reaches your destination country, lies with the customer.
If you wish to order more than a quantity of 1 items please contact Firmdale on: +44 20 7907 4040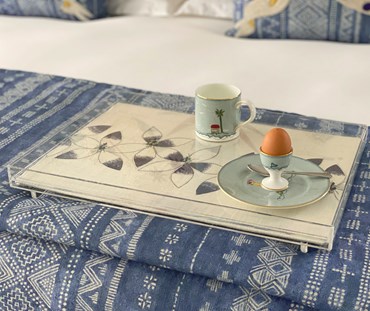 The following links display different product images on this page. Once they are displayed, they can be zoomed to see greater detail