The Kit Kemp for Annie Selke Collection

It's the details that tell the story; the slubby textured linen weave, the zing of the color matched piped edge, the chunky matte hand embroidery, a tropical floral so surf-worn, sanded it has become abstracted. Another design from Kit Kemp to throw into your mix. Her wish for this collaboration with Annie is to encourage personal self expression, champion color, pattern and craft and be proudly eccentric and eclectic.

Kit creates scale and balance with colors and patterns that sing and is known for creating personal, authentic, handcrafted spaces which capture the imagination and stand the test of time.

Boogie Board Blue Embroidered Decorative Pillow

Size

16 inches by 20 inches / 40cm by 50cm

Content

100% Cotton base with 100% acrylic embroidery

Care

Hand wash in cold water, lay flat to dry. Do not bleach. Warm iron if needed.

Returns:
If you are in any way unsatisfied with your order we will be happy to offer an exchange, refund or replacement on all item(s) returned to us within 30 days of the date of receipt of goods assuming they are in their original, unopened and unused condition.

Delivery costs and estimated delivery time:
UK - Excluding Channel Islands £7.00 (3-5 working days)
Channel Islands £20 (4-6 working days)
Europe and ROI £25.00 to £40.00 (4-6 working days)
USA/Canada £45.00 (4-10 working days)
ROW £55.00 (5-15 working days)

Please note delivery times may vary for furniture and soft furnishings

Cushion covers are supplied with a free feather filler, however due to customs regulations for the United States and Australia, the cushion cover will be dispatched without the feather insert.

Prices
All prices quoted on this Website are accurate at the time of publication, are quoted in pounds sterling or US Dollars and where appropriate are inclusive of UK sales tax (VAT) at the current rate. If your order is being despatched to a destination outside the European Union (EU) then your sales tax will be zero. If your order is being sent to a member state of the EU then the selling price will include VAT. You will be responsible for the payment of any customs or import duties levied once the package reaches your destination country.
If you wish to order more than a quantity of 7 items please contact Firmdale on: +44 20 7907 4040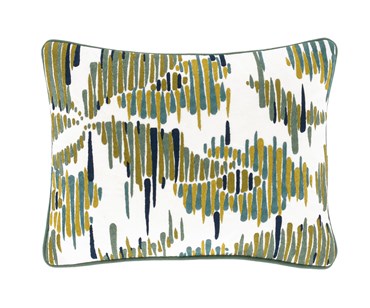 The following links display different product images on this page. Once they are displayed, they can be zoomed to see greater detail