In Design Secrets, Kit Kemp welcomes you into her colourful world and reveals how to create interiors which capture the imagination, by giving readers a new way of looking at interiors and the confidence to be bold in their designs.

Design Secrets is a unique, lively and informative masterclass which will become your touchstone for top tips, do's and don'ts and creative projects to add a fresh and exciting feel to your living space.

Discover an invaluable glossary of creative ideas, with playful yet practical guides exploring topics from how to use colour in design, tips for lighting a room, how to use found fabrics and be inspired by the creative minds of some of Kit's favorite artists and craftsmen in "Meet the maker".

There is even an opportunity to add your own personal flourish to the book itself in the one of a kind hand illustrated colouring-in book, where your invited to reimagine some of Kit Kemp's most iconic interiors

Returns
If you are in any way unsatisfied with your order we will be happy to offer an exchange, refund or replacement on all item(s) returned to us within 30 days of the date of receipt of goods assuming they are in their original, unopened and unused condition.

Delivery costs and estimated delivery time:
UK - Excluding Channel Islands £8.00 (3-5 working days)
Channel Islands £20 (4-6 working days)
Europe and ROI £25.00 to £40.00 (4-6 working days)
USA/Canada £45.00 (4-10 working days)
ROW £55.00 (5-15 working days)

Prices
All prices quoted on this Website are accurate at the time of publication, are quoted in pounds sterling or US Dollars and where appropriate are inclusive of UK sales tax (VAT) at the current rate.
If your order is being despatched to a destination outside the European Union (EU) then your sales tax will be zero. If your order is being sent to a member state of the EU then the selling price will include VAT.

Responsibility for the payment of any customs or import duties levied once the package reaches your destination country, lies with the customer.
If you wish to order more than a quantity of 6 items please contact Firmdale on: +44 20 7907 4040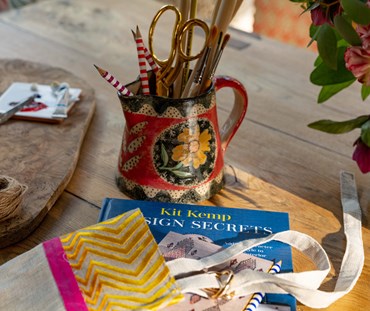 The following links display different product images on this page. Once they are displayed, they can be zoomed to see greater detail