The Kit Kemp design studio has designed this limited edition handmade and hand painted timber lamp base with decorative artist Melissa White to give this one of a kind piece a real paint splash of life and a finish that is totally unique.

Four discs form a simple but striking lamp base which is hand painted in the new Kit Kemp's "Papillon" design which recreates a midsummer night's dream mural available in easy panels to create an enchanted forest in your own home. Delightful silvery willow trees dance with blooming powder pink roses and burnt orange butterflies against chalky teal skies. This lamp base looks great paired with our Rectangular Ruler Table.

Designed for the Kit Kemp Collection with Melissa White.

Sold without the lampshade

Width: 16cm x Depth: 3cm x Height: 70cm

Please note, delivery is not included in this item cost. Please contact us on 020 7907 4040 for an accurate postage quote dependant on your area and service required before checking out.

Item only available for delivery in the UK.

Prices
All prices quoted on this Website are accurate at the time of publication, are quoted in pounds sterling or US Dollars and where appropriate are inclusive of UK sales tax (VAT) at the current rate. If your order is being despatched to a destination outside the European Union (EU) then your sales tax will be zero. If your order is being sent to a member state of the EU then the selling price will include VAT. You will be responsible for the payment of any customs or import duties levied once the package reaches your destination country.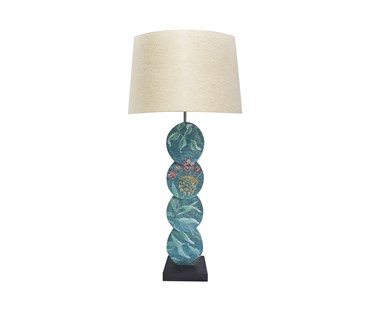 The following links display different product images on this page. Once they are displayed, they can be zoomed to see greater detail