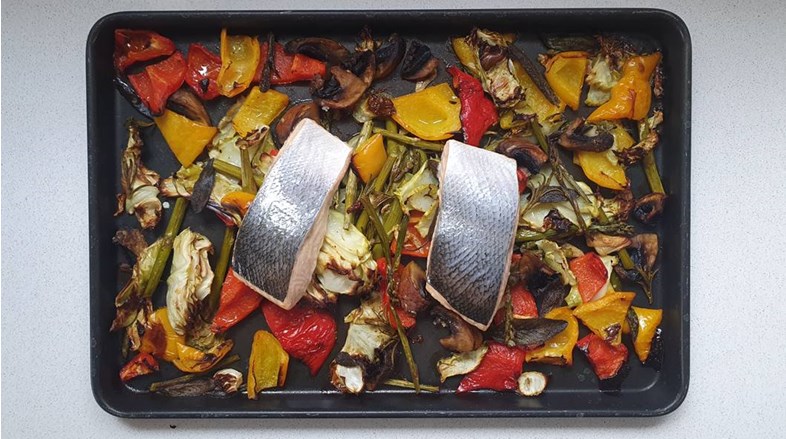 Salmon, couscous and roasted vegetables
serves two
couscous ingredients
120g couscous
30ml Rapeseed oil
50ml sweet chilli sauce
Sea salt and black pepper
METHOD
Boil the kettle
Mix all the ingredients in a bowl
Pour the boiling water over the mixed couscous just to cover it
Cover the bowl with a plate and leave to one side for 5 minutes
salmon and roasted vegetables ingredients
Two portions of fresh salmon
One red pepper
One yellow pepper
½ bunch of asparagus
2 flat mushrooms
¼ hispi cabbage
One clove of garlic
Sage and rosemary from the garden but feel free to use whatever herbs and spices you can get your hands on
METHOD
Cut all the vegetables to roughly the same size
Season with sea salt and pepper
Drizzle with rapeseed oil and mix so all are evenly coated
Add herbs
Place in the oven at 190 degrees Celsius for 15-20 minutes until soft and golden
Then, place the salmon portions on top of the vegetables and put back in the oven for a further 3 minutes
Turn the oven off but leave the tray inside for a further 10 minutes. The salmon will be nice and pink!
Serve the couscous on a bed of hummus, with the roasted vegetables and finally the salmon on top. Spoon a dollop of wild pesto onto the salmon for best results.
If you would like to have a go at creating your own hummus and wild garlic pesto, here are Robin's homemade recipes.
hummus INGREDIENTS
500g dried chickpeas
250ml olive oil
3 teaspoons tahini
3 cloves of garlic
Smoked paprika
Sea salt
Cracked black pepper
METHOD
Cover the dried chickpeas with double the amount of warm water (from the tap is fine) and leave overnight for them to soak
Transfer chickpeas and water to a sauce pan and bring to the boil. Season with sea salt and simmer until soft
Allow to cool in the water for 30 minutes, then drain
Add the chickpeas to a blender along with the garlic, olive oil, tahini, a good pinch of smoked paprika and lightly season
Blend until smooth (you may need to add a little boiling water from the kettle if the paste is too thick, but just a little at a time)
Check the seasoning and serve with a sprinkle of smoked paprika and olive oil
wild garlic pesto INGREDIENTS
400g wild garlic
60g walnuts
70g grated Parmesan
100g extra virgin olive oil
Sea salt
Cracked black pepper
METHOD
Wash the wild garlic and drain the water
Roughly chop the leaves and add to your blender along with the walnuts, Parmesan and olive oil
Blend until smooth
Check the seasoning
Store in an airtight container, with a thin layer of olive oil on the top to stop the pesto discolouring